Dear Writers and Readers,
Where can a letter take us?
What new worlds can epistles open for us?
What old worlds can be reconsidered in letter form?
When was the last time a letter led you to laughter?
In the previous post, Epistles and Education, we considered practical, literary, and educational possibilities of letters.
Today we will explore additional possibilities for letters in children's books and epistolary poetic fun.
Letters are versatile and easily adapted to any mood, tone, style and purpose.
Many writers have chosen to,"re-tale" familiar stories, particularly fairy tales and folk stories, in epistolary form.
Alma Ada Flora gives us several such works in which familiar traditional tales are reimagined and reworked into delightful revisions and retellings--with surprising interactions between characters from different tales woven seamlessly together-- all in letter form.
Reading other people's letters is a guilty pleasure--from intercepting that juicy note in middle school to finding a letter fragment
on the ground
while out walking
. Last week I found what looked like tattered letter outside a nursing home where I was visiting. I was disappointed to discover only a shopping list for groceries or what may have been a menu for a special dinner, rather than an actual letter--although, perhaps there is a poem or story in the list
The Jolly Postman or Other People's Letters by Allan Ahlberg allows us snoop through correspondence of some of our favorite fairy tale and nursery rhyme characters, to sneak a peak at what is going on in their lives, as we open the many flaps and envelopes built into this book, and literally hold the letters in our hands. There are several additional books in this series to treat our curiosity.
The grown-up version of this snooping-through-mail kind of fun is provided in the Nick Bantock's Griffin and Sabine series, in which we actually open the envelopes and read the magnificently beautiful hand-painted postcards and other correspondence between two mysterious characters who have never met. Their most extraordinary story unfolds in this unique series of novels in letters.
For a different kind of fun with letters, Mark Teague allows us to read the letters written home by Ike Larue from obedience school. This unhappy dog tries every trick in the book to get to come home in Dear Mrs. Larue: Letters from Disobedience School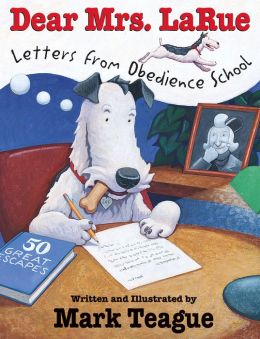 Letters can also inform us and stretch our learning in entertaining ways.
In Dear Mr. Blueberry by Simon James, letters written to her teacher by a little girl learning about how to take care of t
he new whale she has discovered in her pond and his responses are both fun and instructive.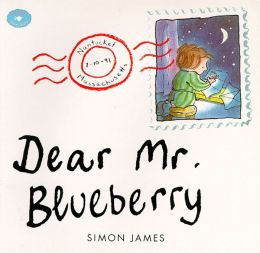 And then there is the most well-known epistolary poem of all time ---This is Just to Say by William Carlos Williams. This small poem has served as a model and mentor texts for more poems, books and spoofs than than we can probably count.
This is Just to Say
I have eaten




the plums




that were in




the icebox
and which




you were probably




saving




for breakfast
Forgive me




they were delicious




so sweet




and so c

old
Click here to read a collection of poems on Tumblr using this poem as the inspiration and model. The blog, Somewhere in the Suburbs also has a collection of parodies of this poem.
To find more just enter the title of the poem in your favorite search engine.
And of course, there are several wonderful books inspired by this famous poem. Gail Carson Levine, who has written many fairy tale adaptations and novels, gives us Forgive me, I Meant to Do It: False Apology Poems., in which every poem is listed in the Table of Contents as This is Just to Say. Many of these, in true and expected Levine form, are based on familiar fairytale or nursery rhyme characters and themes. Most of them will make you laugh out loud.
And finally, as we deal with false apology poems a la William Carlos Williams, we get a glimpse of responses and forgiveness in This is Just to Say: Poems of Apology and Forgiveness by Joyce Sideman. Click here to access a wealth of related resources on her website, including a reader's guide, a play adaptation, and Sideman reading a poem.
As we consider the dilemmas, the resulting apologies and the responses of forgiveness, we come full circle in our consideration of letters.
Letters go both ways-- to and from--and they are one important way we can open, continue, extend and expand conversations with others.
To whom do you need to write a letter?
To whom do you owe an apology?
Who do you need to forgive?
Wishing You Deeper Writing,
robin
Today's Deeper Writing Possibility
Choose a favorite fairy tale or nursery rhyme character.
To whom do he or she need to write?
Write that letter. You may also want to write a response.
Does this same character need to apologize to another character?
To whom do you need to apologize ?
Try writing a false (or real) apology poem modeled after William Carlos Williams poem, This is Just to Say.